If you would like to escape the hustle and bustle and discover your own desert island then take a short hop from Saigon or the Mekong Delta across to Phu Quoc Island, in the Gulf of Thailand just off the Cambodian coast.
Not long ago minding its own business it was just famous for producing the best fish sauce in the world, but now as news of its beauty spreads it is being touted as Vietnam's Phuket.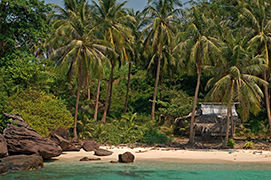 An undeveloped tropical island paradise
Perfect as an add-on to Saigon, the Mekong Delta or Hanoi, Phu Quoc is that rare jewel, a relatively undeveloped tropical island fringed by beautiful beaches, promising little more than peace and quiet, a cold beer and beautiful sunsets.
Those who are looking for a little bit more can enjoy some superb diving, fishing or snorkelling excursions.
It's also worth exploring the island a little bit more, wandering through coastal fishing villages or jungle interior.
When to visit
The island enjoys a monsoon sub-equatorial climate with two seasons:
Rainy (July to Mid-October)
Dry (Mid-October to June)
...and with so much emphasis on the simple, natural things in life, travelling in the dry season or fringe of the rainy makes sense.
Get here quickly before things change.