Hanoi, the northern capital city, stands out against many of its larger Asian cousins, maintaining an authenticity of national character that is becoming harder to find. A relatively small city it's easy to explore under your own steam and get involved with urban Vietnam. No ubiquitous shopping centres, 24 hour western fast food outlets or anonymous mass transit schemes, you know you're somewhere different, somewhere special.
Perfect the 'Hanoi Wave'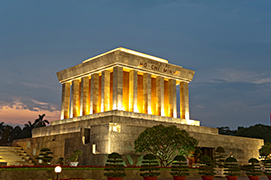 This is a city to walk around, becoming involved in real life that is played out in front of you on the streets.
Make sure you take a bowl of "Pho" (rice noodles) which is sold everywhere and eaten anytime.
Hanoi is alive with life on the move and after a tentative start you'll have the "Hanoi Wave" perfected as you casually cross the streets, gently moving your arm warning the thousands of motor scooters that teem the city streets that you're crossing their path, like a seal moving through a sardine shoal.
Visit the Old Quarter
During your stay you'll automatically gravitate to the Old Quarter, the commercial heart for over a thousand years and still very much alive as business is played out within its tangled web of streets and alleys.
Move out of the Old Quarter and the city opens up with its leafy tree lined streets, ancient architecture, lakes and parks. The parks are particularly interesting either early morning or early evening when Hanoians make the most of the open spaces to spend time with family and friends enjoying a variety of activities, games and sports.
Tour Hanoi's incredible range of museums
Visit Ho Chi Minh's Mausoleum, a traditional stilt house, the One-Pillar Pagoda, the Ethnology Museum, Tao Sach pagoda and thousand-year-old Temple of Literature, the First University of Vietnam.
Hanoi's attraction lies in the whole package, it's a total experience that delivers the best possible Vietnam Holiday culture shock, full of experiences that are quickly disappearing in our homogeneous world.
The Start of your Vietnam Adventure
Hanoi is the perfect starting point to explore all that the north has to offer, including the mountain villages around Sapa, the wild National Parks and dramatic limestone islands in Halong Bay. Further afield the central coast is just a hour's flight away and Saigon just another hour.