Vietnam is lucky enough to be topped and tailed by two fantastic cities with Ho Chi Minh acting as the modern, dynamic axis in the south.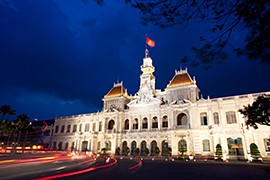 Still verbally referred to as Saigon by its residents, the city is the vibrant beating heart of the country and is an eclectic mix of traditional street markets, grand colonial buildings & boulevards and striking modern edifices that point towards Vietnam's thrusting future.
A great cross section of sightseeing.
Highlights include the Quan Am Pagoda in Chinatown, Reunification Palace which when taken signaled the North Vietnamese victory, Notre Dame Cathedral Opera House, Old Saigon Post Office and War Remnants museum.
In recent times as a result of economic prosperity Saigon has added another layer of attractions, namely an outstanding choice of restaurants as well as classy boutiques and galleries selling silk, lacquer ware and modern art.
See the amazing Cu Chi Tunnels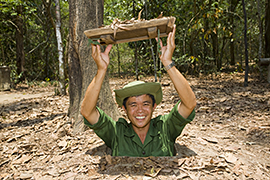 Whilst here make sure you take a side trip to the Cu Chi Tunnels, the legendary remnants of the Vietnam War that offer an evocative and fascinating insight into the horrors that were faced by those involved.
Those brave enough can descend into the layers of tunnels that although widened still create a feeling of creeping claustrophobia.
Few other places encapsulate the sheer will-power that the American military faced and the lengths that the Viet Cong were prepared to go to in order to evict them.
Gateway to the Mekong Delta, National Parks & Soutern Beaches
Saigon is also the gateway to the Mekong Delta, tropical islands of Con Dao and Phu Quoc, and Cat Tien National Park: the perfect base from which to explore the diverse South on a Vietnam Holiday.