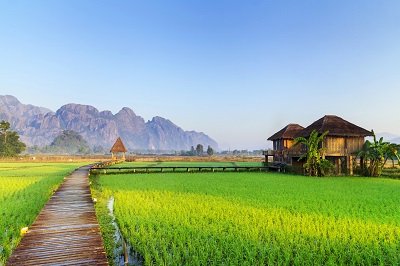 There is no best time of year to come to Laos. Every season has pros and cons and its landlocked location, sheltered by mountains, shields it from extreme weather patterns.
Cool Season - November to February
"Cool" is a relative term and perhaps "comfortable" would be a better description, as the temperatures range from the high 20's at either end of the season down to the high teens in January. As with most of South East Asia this is the busiest time of the tourist year for Laos.
Layers are the best idea at this time of year and a warm jacket may be needed at night, especially in the hills of the north or Bolaven Plateau in the south.
Mornings can start out foggy, which invariably burns off to reveal a vivid blue sky. Humidity is low at this time of the year and conditions for visitors are at the most comfortable when touring.
Hot Season - March to May
As the name suggests this time is generally hot and very dry. Cool cotton clothes, sunhats, sun cream and lots of drinking water are essential.
If you cruise the Mekong, river levels can drop quite rapidly revealing amazing rock formations that jut up out of the river and slow the cruise down. Temperatures can top 35˚C during this period.
Rainy Season - June to October
The downside is that there will be rain, usually in the afternoon, but the scenery is lush and green, the rivers are in full flow and there are fewer tourists. This results in lower prices and less busy tourist sites.
The weather is still very warm and often sunny during the day. Travel in late October / early November and if your luck holds you should get the best of both worlds; a lush landscape bathed by warm sunshine with less tourists ruining your view.
Our Month By Month Weather Guide offers more information and holiday suggestion. Alternatively please call as we'd be happy to discuss your holiday plans.