It may sound trite but Luang Prabang is a place that you take home in experiences and emotions rather than pictures.
You immediately feel you're in a special place as the city's exquisite river side setting nestled beneath protective hills helps create the relaxed, almost spiritual feeling of this heavenly city.
Its small town atmosphere is something you settle into amazingly quickly, you feel comfortable, at home, at peace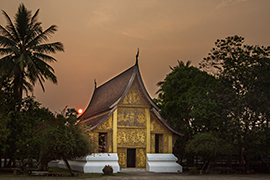 with the world.
Wander through the tangled streets...
As you wander through the tangled streets, golden Buddhist temples give way to faded French villas and this fusion of architectural and cultural traditions convinced UNESCO to bestow World Heritage status on the city.
Small and relatively traffic free, the best way to see the sights is on a walking city tour as, as well as the historical highlights, you'll see real life and be able to ask the guide for an insight into the things you see.
Historical highlights include the former Royal Palace (now the National Museum), the golden temple of Wat Mai, Wat Xieng Thong, the city's most spectacular temple and Wat Wisunalat, the oldest temple.
See the morning alms procession...
Away from these make sure you hike up to the Phu Si Temple with a spectacular city view that comes into its own as the sun sets. Then head back down to the night market where you can buy local handicrafts including textiles and jewellery.
As you wander the streets you'll find an increasing number of boutique galleries and shops that may catch your eye.
Counter to this we also recommend the beautifully understated morning alms procession, during which monks pass silently along the streets and collect food offerings in their bowl.
The perfect base for a range of sights
Luang Prabang is also a great place to base yourself to enjoy the superb range of holiday experiences outside the city, such as Mekong cruises, cooking courses and day trips to swim in waterfalls.
The city's authentic, gentle otherworldliness creates something special, but it's a delicate balance that can easily be disturbed as the commercial world wakes up to its beauty.
Get here soon.