Mention beaches in Thailand and your eyes tend to head south on the map, but if you're looking for something new, slightly off the beaten track, turn them east of Bangkok to the island of Koh Chang, close to the Cambodia border.
Tropical island paradise
As Thailand's second largest island you may be surprised that it's so low key. With an improving infrastructure it's just a short hop from Bangkok to Trat airport and from there, a memorable boat ride out to this tropical island paradise.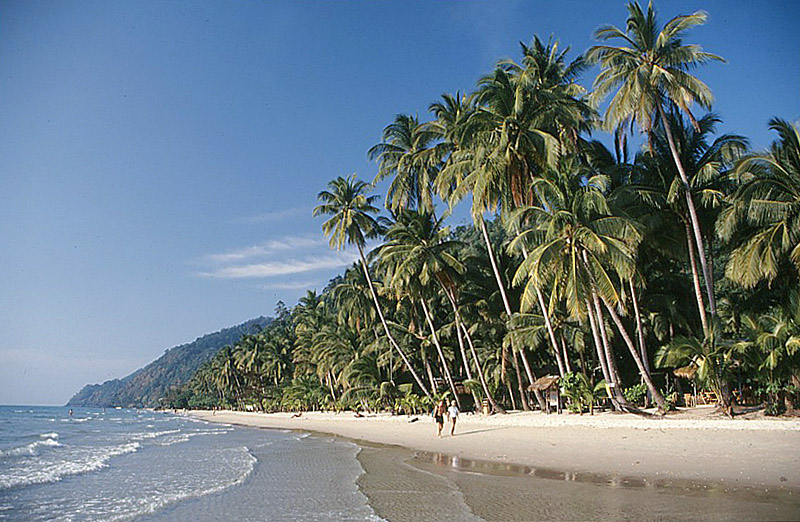 In fact this lush, mountainous island is just one of over 50 set in a marine park offering a low key beach holiday that ticks all the boxes ably filled by its more developed southern cousins. 85% of the island is National Park and the interior is largely left as undisturbed jungle. Guided walks can be arranged and offer rewarding panoramic views of the coast, jungle waterfalls, colourful birdlife and perhaps the odd monkey but few people.
Back on the coast you'll find most visitors relaxing on the beautiful stretches of white sand and enjoying the Gulf of Thailand's warm waters.
Evenings can be spent at one of the burgeoning restaurants and bars that now line parts of the coast.
World class watersports
Diving is one of the most popular activities as the waters around some of the marine park's smaller islands and seamounts offer some of Thailand's best diving sites. Other popular activities include snorkelling and sea kayaking.
Koh Chang is developing into a major beach destination and if you would like to search out a quiet neighbour that still boasts the dense jungle interior and great beaches, look across to Ko Kut.
Get here while it's still and undiscovered gem
For the moment still a relative backwater, there's little else to do but enjoy the untouched beauty, fantastic food and the precious company of your travelling companion: perfect!