Thailand's popularity is no fluke as it boasts a regal capital city, a plethora of beautiful beach resorts and a magnificent mountainous north, tailormade for trekking and soft adventure. Add to this fantastic food, a rich culture and great value for money and you have the blueprint for the perfect all round tropical destination. The cherry on the top is the warmth of the welcome, which is genuine and gentle, setting the perfect tone for a wonderful holiday. Below are a few suggestions that you might like to include in your holiday to Thailand.
---
Tour East - Thailand to Laos Overland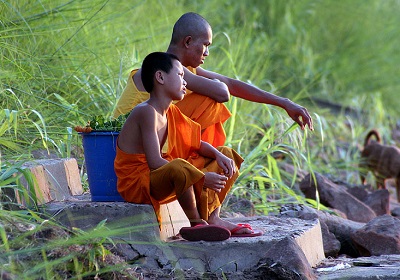 East Thailand and Laos are great holiday companions, offering any visitor the chance to step off the mainstream tourist trail and travel at a tangent to reveal a more traditional way of life and a culture built around a strong individual identity, indigenous cuisine and historic skills. As soon as you leave Bangkok feel the pace of life just fall away as you broadly follow the mighty Mekong through eastern Thailand and across into Southern Laos up to magical Luang Prabang. Perfect for anyone looking to explore some of the most unspoilt and beautiful parts of South East Asia.
---
Cruise the Mekong - North Thailand to Laos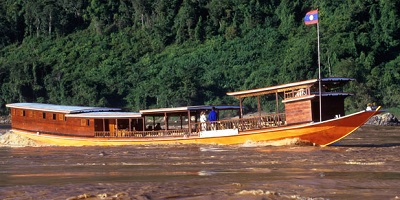 A superbly varied holiday that uses an overnight Mekong River cruise to combine 2 very different parts of Thailand with a comprehensive tour of Laos. After an energetic stay in Bangkok and Chiang Rai it all slows down aboard the Luang Say cruise that meanders downstream through tranquil river scenes to Luang Prabang the spiritual UNESCO World Heritage city. From here the south awaits, again keeping the Mekong close by as your explore the lush forests and dramatic waterfalls of the Bolaven Plateau, the river scenes of the 4,000 Islands and the laid back capital of Vientiane - a world away from our everyday life.
---
Jungle Adventure and Beach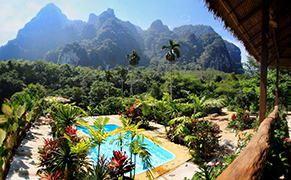 You don't have to fly north to enjoy a jungle trek and elephant safari in Thailand, as Khao Sok National Park, a fantastic prehistoric preserve full of dramatic mountains, lakes and jungle, is just a couple of hours drive from Phuket and Khao Lak beach resorts. This tour makes it easy to add soft adventure to the traditional city and beach holiday and the saved flying time can be enjoyed exploring the jungle or relaxing on the beach.
---